Yesterday it was reported that law-abiding Warrioirs guard Stephen Jackson had testified that he dishcarged his gun in order to stop a brawl that he started.

He said he fired a couple of shots in the air to break up the fight, and then the car hit him.

Whoa that's awesome. How did he start the brawl? Why by being Stephen Jackson of course.
Jackson testified that when he was walking from the club to his car, a man approached him shouting, "dump, dump!"

"Where I'm from, 'dump' means pull out your gun and shoot," he said.

Pacers guard Jamaal Tinsley testified that he also grabbed his gun and put it in his pocket when he heard "dump." He did not fire any shots and was not charged.

Jackson said the man, identified by prosecutors as Willford's cousin, Quentin "Fingers" Willford, had one hand in a back pocket and another in his shirt. The fight started after Jackson and those with him realized Willford had no weapon.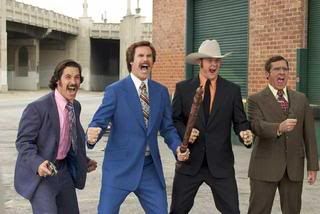 "It was like an all-out brawl," Jackson said. "I started seeing more and more faces I didn't know."
There's almost too much awesomeness here to process. Everyone is armed to the teeth, someone actually named "Fingers" runs down a baller, and a new slang for popping a wanksta is introduced to mainstream America.

One of these days, Jackson's time is going to run out. It always does when you're in the game. Drawing from my own experiences on the block, hustlin, just tryin' to get my ends - one day you're holdin' it down, and the next you fall and scrape your knee really bad in your street's cul de sac because the landscaper left some woodchips at the end of the driveway. True Story.
When his time does come, I hope I'm there to see Jackson tell God that the dress code in heaven is
racist
.
HT: onemoredyingquail